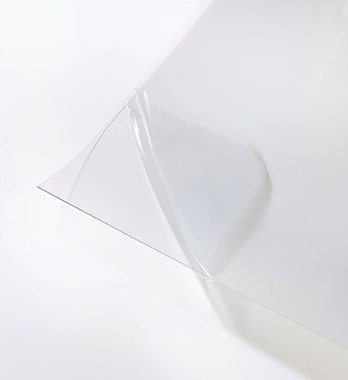 PETG or (Polyethylene Terephthalate Glycol) is a cost-effective transparent thermoplastic film that has great thermoforming ability, moderate impact resistance, and exceptional clarity. PETG is often compared to polycarbonate, although it does not have the rigidity or impact strength of polycarbonate. PETG is designed to be easily conformable which makes it ideal for applications that require ultimate clarity and transparency versus other performance properties. This material is easy to fabricate and machine which makes it a cost-effective plastic that can be used in a variety of engineering applications or sign applications used in visual merchandising. Haverer Group produce this kind of optically clear PETG film with excellent quality, also competitive price.

Optically clear PETG film is a general-purpose high clarity transparent polyester film. This film is non yellowing and holds consistent color. Main features of optically clear polyester include chemical resistance, electrical resistance, tear resistance, dimensional stability, and heat resistance of up too 200°F. Typical applications include packaging, printing, die-cutting, electronics, protective overlay, barrier protection, apparel, and other industrial applications.

Optically clear polyester can be supplied with adhesive backing. Available in sheets, slit to width rolls, or custom die cut parts.

size:
width 1310mm (>1250mm)
thickness 60micron - 1.0mm


Please send us your requirement to Sales@haverergroup.com; alan.wang08@gmail.com, our SALES TEAM will be here for you!