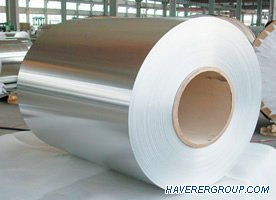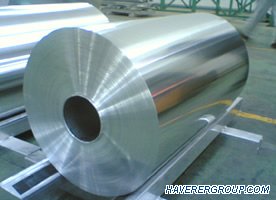 Aluminum sheet coils, after a temperature of 1300°F, the aluminum ingot melting, then the aluminum slabs come out from the furnace, After cooling, the slabs are processed through our rolling mill to reduce the thickness to the desired one. This reduction process is computer controlled and employs an X-ray measuring equipments which allows us to maintain material thickness to within 3% of the desired thciness.
The finished aluminum coils packed with paper and sit on the pallet.
Aluminum sheet
/ coil specification:
Alloy: 1050/1060/1100/1200/2024/3003/3105/5052/5083/5754/8011
Thickness: 0.006mm - 10mm,
Width: 10mm - 1524mm
3003, 1060, 1100 aluminium fin strips for heat transfer,
3003 aluminum strip, aluminum sheet for lamp head (saving lamp)
3003, 3105 aluminum sheet coil for roofing
1050, 1060, 1100, 8011 aluminum tape with copolymer coated, for cable armoring
Aluminum foil
product specification:
Alloy series: 1235, 1145, 8011, 8079
Thickness: 0.0055 - 0.20mm
Width: 80 - 1880mm
Core inside diameter: 75mm, 150mm
Maximum Coil outside Diameter: 1000mm
Aluminum foils have various excellent properties such as being light quality, good cladding nature, poison-free, anti-moisture, light-shielding, heat conduction, high electric conductive, anti-corrosive and visually appealing etc. Therefore, they can be widely used in many areas,such as food and drink foil,cigarette packing,medicine and cream product,heat preservation material and video cable etc. Aluminum foils in plywood case,
1100, 1235, 1145 8011, 8079 aluminum foil for food packing
Now HAVERER GROUP has the good quality aluminum foils for air conditioning:
Hydrophilic aluminum foil (blue color) or bare aluminum foil with competitive price.
Alloy: 1100, 1200, 8011, 3102
Temper: H22, H24, H26
Thickness: 0.08mm--0.2mm
Width: 750mm (below) is better.
Leadtime: About 30 days
Packing: Wooden case
Please send us your requirement of steel strip coils to
Sales@haverergroup.com
, our SALES TEAM will be here for you!