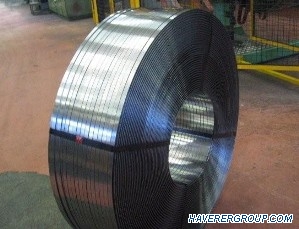 HAVERER GROUP produce low carbon steel strips, Interstitial-free steel strips, steel tape in China. Steel strip with the width less than 520 mm in general, Soft annealing steel strip steel tape and hard cold rolled steel strip.
In order to supply a high dimensional accuracy and excellent surface quality, HAVERER GROUP produce the steel strips with the high quality rolling machine.
The cold rolled steel strips with slit edge and hand safe edge.

Steel Strip widely used in the production of welded steel pipes, bundy tubes, hardware for door and windows, flux cored wire, bicycle frame, wheels, shoe nails, washers, slideway, hinge, speaker, rack, file cabinet, cable armoring and so on.
HAVERER GROUP also produce the bright surface flat steel strips with precision size, mainly for electro-plating, selective extro-plating, nickel plating, widely used in construction field, such as hardwares for door and windows,
size such as:
2.8mm x 9.90mm,
2.0mm x 15.8mm,
3.2mm x 18.0mm,

Steel Tape (hot dipped galvanized steel tape) for cable armoring:
0.2mm x 12mm / 15mm / 20mm / 30mm / 40mm
0.3mm x 15mm / 20mm / 30mm / 40mm
0.5mm x 15mm / 20mm / 30mm / 40mm / 50mm
0.8mm x 30mm / 40mm / 50mm
1.0mm x 30mm / 40mm / 50mm

Material available for steel strips:
SPCC, SPCD, SPCE, Q195, Q235, SAE1008, SAE1010, SAE1020, ST12, ST14, interstitial-free steel strips etc.
Specification:
Thickness: 0.05mm - 3.5mm
Width: 3.50mm - 520mm
Mainly customer: Roto China, Roto Germany, Maco, etc.
Please send us your requirement to Sales@haverergroup.com, our SALES TEAM will be here for you!