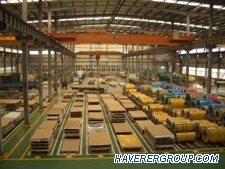 Haverer Group - A leading manufacturer of precision stainless steel strips, stainless steel coils & cold rolled stainless steel plates. Our motto at Haverer Group is to enhance the Customer's satisfaction by processing and providing cold rolled stainless steel strips, Coils of Agreed quality on Committed Time and Place.

Haverer Group is situated on Shanghai and Jiangsu. Mainly produce stainless steel strips, stainless steel precision strips, stainless steel coils and flat bars. Slit edge and round edge.
200 Series including AISI201, 202.
300 Series including AISI 301, 304, 304L, 316, 316L, & 317
400 Series including AISI 409, 410, 410HT, 430, 444
3Cr12 (1.4003)
Tempers include: Annealed, 1/8 hard, 1/4 hard, 1/2 hard, 3/4 hard, Full hard, Extra Full hard, Heat Treated, & Spring Tempers, hardness from HV160 to HV620,
Specification:
Thickness: 0.035mm - 3.00mm
Width: 1.50mm - 1500mm
Application:
for hose clamps and coupling,
for sprial wound gasket,
for Spring, piston ring, constant force spring, etc.
for computer hardware, harddisk cover,
for metal hose,
for cable armoring (with copolymer coated),
for decoration,
for tape measure, flat and hard stainless steel strips, hardness usually 550HV.
for dental application,
for mid-sole, etc.
AISI444 for tap water (pipe & tank)
New products of stainless steel strip and coil:
1. 201 stainless steel strip coils, thickness 0.2 - 2.0mm, width can be 650mm maximum, normal quality and deep drawing quality. (nickel content about 1%).
2. 430, 410, 409L 444 stainless steel coil, 2B or BA surface is availble, with very competitive price.
3. we install the new 20-roller rolling machine, for very thin stainless steel strips, thickness from 0.035mm - 0.20mm, width can be 300 - 450mm, mainly for SUS301, SUS304, SUS316 material.
4. SUS301 stainless steel strips, hardness can reach HV600, mainly for spring, blade, tape measure, etc.

Hot Rolled Plates, sus316, sus316L, sus309s, sus310s, 3Cr12 etc.
Precipitation hardening stainless steel: 17-7PH, 17-4PH, 15-5PH
Size: 4 - 80mm thickness x 600 - 2650mm width x 2000 - 8000Length
Min order: 20,000Kg

Please send us your requirement to Sales@haverergroup.com, our SALES TEAM will be here for you!
More explainations for stainless steel: Stainless steel is different with carbon steel because it has more chromium. Carbon steel rusts when exposed to air and moisture. This iron oxide film (the rust) is active and accelerates corrosion by forming more iron oxide. Stainless steels have sufficient amounts of chromium present so that a passive film of chromium oxide forms which prevents further surface corrosion and blocks corrosion from spreading into the metal's internal structure. slit the coils to stainless steel strips, there's two method, one is slit edges, another one is round edge, round edge stainless steel strips is the best for dectoration.