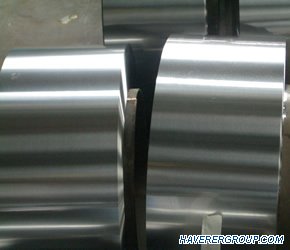 HAVERER GROUP proud to produce steel strips (coils) with carbon content 0.45 - 0.68%
APPLICATION:
Steel strip coils for heat treatment,
Toe Caps,
Shoe Shanks,
Automotive components,
Springs,
Tape Measure, etc.
GRADE:
C50 (SAE1050), C60 (SAE1060), 40Mn (ASTM 1039), 40Cr(ASTM 5140),65MN steel coils
STANDARDS:
For dimension and shape tolerances: EN 10140
For technical conditions: per EN 10132-3

DIMENSIONS:
Thickness: 0.03mm - 3.50mm
Width: 4.00mm - 1250mm

TEMPER:
Soft annealed,
Hardened.
Edge:
Slit edge,
Round edge.
Hand safe edge.

PACKAGING:
Coils and spools on Pallets.
Please send us your requirement of steel strip coils to Sales@haverergroup.com, our SALES TEAM will be here for you!
Details of Soft Annealed SAE1050 steel strip coils:
Cold rolled steel strip coils in quality SAE 1050, according to ASTM-A-682-93 and ASTM-A-684-M86, spheroidized structure, annealed (min. 95% of the grains), grain size No. 8 or finer according to ASTM-E-112, hardness 61 - 78 HRB, aiming for maximum 75 HRB, square cut edges No. 3, regular bright finish No. 2 or matte finish 20 - 45 RMS aiming without decarburization (max 1% of the strip thickness per each side).