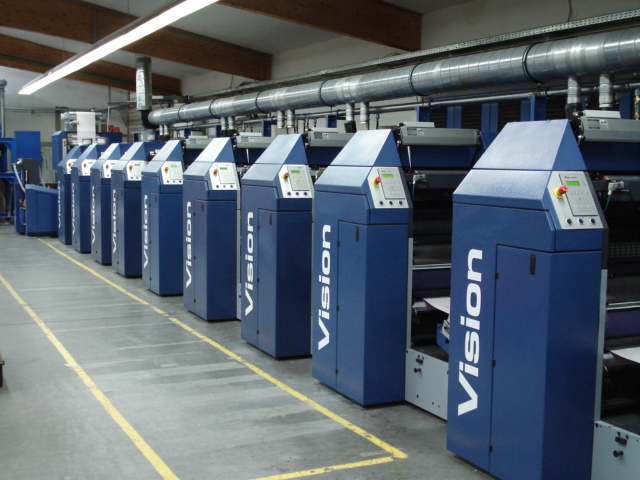 Haverer Group produce the Vision Web Offset Press together with European Engineer. the vision is a short-make-ready web offset printing press that combines shaftless technology with near limitless in line options. This press can be used for a wide variety of products, including commercial print products, direct mail products, labels, pharmaceutical inserts and various flexible packaging applications.

over 60 years of experience in press manufacturing has lead to an amazing product. proven shaftless web press technology has been combined with innovations that minimise make-ready time. the result is the Vision, a press that offers today's printers competitive advantages in productivity, versatility and order turnaround time.

The modular design makes Virtually any combination of modules possible, making it suitable for a wide variety of products. A choice of tools make inline finishing possible.

VISION MARKETS:
1.direct mail & commercial printing,
2. business forms,
3.security printing,
4. wrap around label printing.
5. plastic film printing (PP, PE, OPP, POPP, etc)

SERVO drive
computer-controlled direct drive of all units allows exceptionally precise web tension and print registration on a wide range of materials, form 20 to 300 microns(0.0008"-0.012") thick. registration remains stable during speed changes and can be controlled to a tolerance of +/-10 microns (0.0004").
the press does not have conventional gear trains and gear boxes which are subject to ear and damage and canintroduce print quality and registration variations.

HYBRID PRESS
The Vision press can have up to 40 independently driven printing, processing and delivery modules. the module drives are linked electronically through the central control computer, not by mechanical connections.
Machine configuration can be easily changed or expanded with additional modules for die cutting, punching, numbering, sheeting, etc. The "olug and print" modularity Indudes Options to add Flexographic, Gravure, letterpress, and rotary screen printing stations. Protection against obsolescence and market shifts is one of the built-in benefits of the Vision press.

Technology 520
web width: max 520mm
maximal print width: 500mm
repeat range: any print length between 407-719mm
variable in steps of: 1/6"
non-printing zone: 9mm
image carrier: offset plate, conventional or CTP wet offset
maximum printing speed: standard: 300m/min, optional:400m/min
max unwind wiameter: 1270mm
max. rewind diameter: 1270mm
printing materal thickness range: 10-300micron
blanket thickness(rubber): 1.95mm
ps plate thickness: 0.30mm

VISION ADVANTAGES:
Superior offset print quality;
short make-ready & change-over time;
many different in-line processes possible;
user-friendly and ergonomic opeartion,
no tools required;

additional units
1. die cutter, 2 rewinder, 3 plow folder, 4 sheeter,
5 blanket washing system; 6 remote ink control; 7 register control; 8 web video system; 9 UV curing system;
10 Flexo unit; 11 Screen printing unit; 12 Rotogravure unit; 13 Hot foil stamping unit;
14 Laminating unit; 15 Numbering unit; 16 Cooling unit with UV Curing; 17 Non-stop Splicers;
18 Corona unit;

Outstanding after sales service
Qualified technical service engineers
All our service engineers benefit from an additional in-house technical support team.
Servicing for ALL Luotaprint, Vision, VSOP

Please send us your requirement of continuous forms machines to alan.wang08@gmail.com, our SALES TEAM will be here for you!