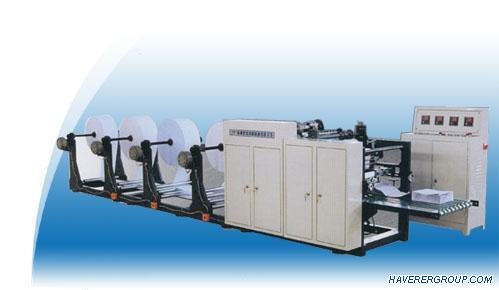 LDC-05 Multiple Function Printing Paper Processing machine invoice punching folding machine printing machinery printing equipment specially for making printing paper with 1-5 layers for computer output equipment, with the process of hole punching, folding line making, paging. automatic page folding, automatic counting. etc. The packed computer paper of various sizes is delivered efficiently.
And this machine is only for ordinary computer bills and rolling computer bills.
Standard Arrangement:
Continuous Adjustment of Work Speed: 5-120m/min
Max Width of Finished Paper: 520mm
Max External Diameter of Processed Paper Rots(external diameter*width): 1000*400mm
Motor Power: 380V
Power Voltage: 3kw
Maching mass: 1800KG
Dimensions(length*width*height): 6400*1200*1250mm

HavererGroup Zhongluo machinery company produce Luota brand business forms machine, now we already sold 2100sets, mainly in China, also to Sri Lanka, Turkey, Uzbekstan, Ukrain, Pakistan, Kenya, Yemen, Saudi Arabia, Bulgria, Syprus, etc.

Please send us your requirement of continuous forms machines to alan.wang08@gmail.com, our SALES TEAM will be here for you!