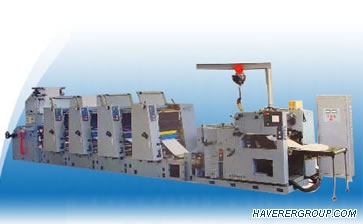 HAVERER GROUP Produce multi-color rotary press machine LSY-470, a high speed continuous forms machine. It is designed by our Partner from Janpan. Adopted with intergrated structure, it can equip with 2~11 printing units according to the customer's request. Folding,punching ,and line rolling units are optional.
Controlled by PLC,set by man-machine interface, it saves the printing preparing time and paper wasting is less, it is a high quality printing machine, the best choice in business form printing.

Usually our Rotary press + one collator, is a completely printing line for business forms, rotary press is for printing forms, perforation, punching holes, folding pages, then Collator gathering pages together.

printing machine LSY-470 bills printing machine bill notes printing machineis adopted with integrated structure, so it can equip with 1-11color printing units. Controlled by PLC , set by man-machine interface. it limits the printing preparing time and paper wasting to the minimum, can drastically enhance machine working rate.
This products line suit to print high speed and high quality printing products in mass production. And your products can be roll to sheet, folder and roll ect. types. The punching, printing, numbering, folding, rolling and sheet on one line and one time which all finish or design as customer requirement. And this machine is for ordinary computer bills, rolling computer bills and multi-color label printing. It is mainly applicable for computer bills computer forms and muti-colors lable. Such as checks Invoicelottery tickets prize volumesrail consignment notepay invoice bills information recording paper ect. And widely used in commerce foreign trade transportation post telecommunication health careresearch and service departments etc.
Standard arrangement:
Max. web width: 470mm.
Max. web dia: 1200mm.
Web core: 76mm.
Max. printing width: 457mm.
cylinder size: 10-18in.
Max. width of folder: 420mm.
Length of Folder: 8-17in.
Thickness of Printing Paper: 40-120.g/m2.
Max. Machine Speed: 150m/min.
Printing Color: 1-11 printing units,
Thickness of PS Plate: 0.30mm.
Thickness of Rubber Cloth: 095mm.
Power: 380V, 50-60Hz

HavererGroup Zhongluo machinery company produce Luota brand business forms machine, now we already sold 2100sets, 50% in China, 50% to Sri Lanka, Turkey, Uzbekstan, Ukrain, Pakistan, Kenya, Yemen, Saudi Arabia, Bulgria, Syprus, etc.

Please send us your requirement of continuous forms machines to alan.wang08@gmail.com, our SALES TEAM will be here for you!