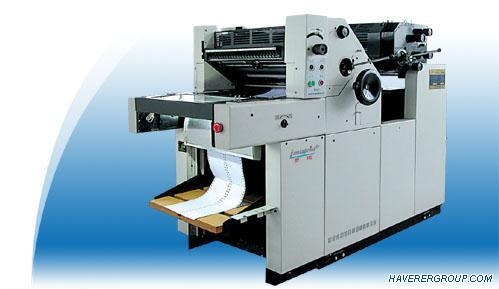 L470-2C is a two-color offset machine, special designed for printing continuous forms, computer bills, carbonless papers, carbonless forms, etc. It is next to perforation machine, and before collator machine. It is a pack to pack machine.
This machine is mainly controlled by electric equipments, if you need to print different size of forms, just simply press the button, don't need to change the printing heads. it is simply operate.

offset printing machineL470-2C(offset printing machine offset printing machinery invoice printing machine) suit all kinds of bill printing and carbonless coppy paper printing.changing printing size without changing cylinder.simply adjusting by electrical controls. Three-dimensional adjustment, i.e. circumferential, radial and askew for the form, can be performed, to ensure accurate overprinting and overprinting repeatly. Speed is adjusted with the frequency converter, with infinitely variable speeds. With front and back inch function, operation easy. Equiped with Servo Motor, driven transmission paper. Guide paper by importing paper feeder. positioning precision, Swinging collection. Tidy and stable.
This product-sets suit to print small quantity and many varieties printing for ordinary computer bills, rolling computer bills and the cost for this product-sets is cheaper.
standard arrangement:
Maximum paper width: 450mm.
Maximum print length: 7"-13.5" (345mm)
Speed: 10000fph Max.
Fold length: 7"-14"(178-356mm).
Max, Paper weight: 35-170g/m2,
Power: 220V ,50Hz.
Main motor: 220V, 1.5KW
packed weight: 600KG;
Dimensions(length*width*height): 1840*1030*1340mm

HavererGroup Zhongluo machinery company produce Luota brand business forms machine, now we already sold 2100sets, 50% in China, 50% to Sri Lanka, Turkey, Uzbekstan, Ukrain, Pakistan, Kenya, Yemen, Saudi Arabia, Bulgria, Syprus, etc.

Please send us your requirement of continuous forms machines to alan.wang08@gmail.com, our SALES TEAM will be here for you!


Customer List:
Bulgaria:
"EMA" Ltd.

Cyprus:
COMULTI PRINTFORMS Ltd

Ecuador:
IMPRENTA GALAXIA

Indonesia:
PT. UNIMES PUSAKA CEMERLANG
PT. SEKAR USAHA GEMILANG
PT USAHA MAJU BERSAMA TOKO

Lagos:
ADEGAN VENTURES LIMITED

Malaysia:
Hexagon Glory Sdn. Bhd

Saudia Arabia:
Bin Taleb International Group

Sri Lanka:
JDC Printing Technologies (Pvt) Ltd
Arjuna Graphics Pvt Limited
Bhathiya Trading Co. (Pvt). Ltd.
Negombo Printers Pvt Ltd.

Turkey:
Patrol Makina Sanayi Matbaacılık ve Dis Tic Ltd Sti
Flamingo Basım ve Kırtasiye Sanayi ve Tic.Ltd.Şti

UAE:
Elegant Furniture Manufacturing Co. LLC.

Ukraine:
PAPER LLC

USA:
Otto Marketing Services.

Yemen:
Ai-Noor for Printing & Paper Production Co.