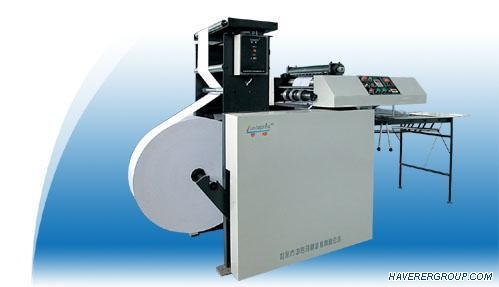 Haverer Group produce the continuous forms machine LDC-02, it is for punching holes, perforation lines, folding pages, mainly for produce the blank computer papers, blank forms, carbonless forms, carbonless paper, it is designed by our partner in UK.

printing machine LDC-folding machine punching machine can make holes, folding line and folding, with 2-side holes, folding line and folding pages, for printing and computer printer. It generally is used jointly with printer and paging machines, making the blank paper into a computer bills.
The pneumatic paper charging system makes the paper charging more convenient.
The tension control system control the tension effectively, assuring the continuous and efficient production.
The dangerous parts, like paper pressing wheels, punching shafts, etc., are covered (cutting power off by opening it), with safety warning markers, for the safety of the machine.
Maximum sheet width: 18.89"(480mm);
Maximum roll diameter: 1000mm;
Speed: 0-100m/min;
Fold length: 7"-14"(178-356mm);
Paper weight: 35-170g/m2;
Power: 220V,1.1kw;
Packed weigh: 700KG;
Dimensions(Length*width*height): 2500*950*1400mm

This machine, if single one, can produce the blank computer papers, also usually together with offset machine and collators, 3 machines as a completely business forms production line to produce business forms.

HavererGroup Zhongluo machinery company produce Luota brand business forms machine, now we already sold 2100sets, 50% in China, 50% to Sri Lanka, Turkey, Uzbekstan, Ukrain, Pakistan, Kenya, Yemen, Saudi Arabia, Bulgria, Syprus, etc.

Please send us your requirement to alan.wang08@gmail.com, our SALES TEAM will be here for you!


Customer List:
Bulgaria:
"EMA" Ltd.

Cyprus:
COMULTI PRINTFORMS Ltd

Ecuador:
IMPRENTA GALAXIA

Indonesia:
PT. UNIMES PUSAKA CEMERLANG
PT. SEKAR USAHA GEMILANG
PT USAHA MAJU BERSAMA TOKO

Lagos:
ADEGAN VENTURES LIMITED

Malaysia:
Hexagon Glory Sdn. Bhd

Saudia Arabia:
Bin Taleb International Group

Sri Lanka:
JDC Printing Technologies (Pvt) Ltd
Arjuna Graphics Pvt Limited
Bhathiya Trading Co. (Pvt). Ltd.
Negombo Printers Pvt Ltd.

Turkey:
Patrol Makina Sanayi Matbaacılık ve Dis Tic Ltd Sti
Flamingo Basım ve Kırtasiye Sanayi ve Tic.Ltd.Şti

UAE:
Elegant Furniture Manufacturing Co. LLC.

Ukraine:
PAPER LLC

USA:
Otto Marketing Services.

Yemen:
Ai-Noor for Printing & Paper Production Co.
Please send us your requirement of continuous forms machines to alan.wang08@gmail.com our SALES TEAM will be here for you!